elephant
In Praise of Elephants toured to village halls across England and Scotland in the spring of 2013.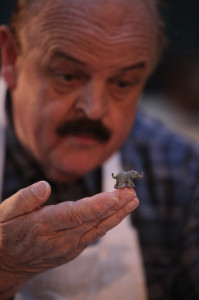 I have had the idea of making a play about an elephant for about five years now. and now its made….. the actual rehearsal process was a laughably short 17 days – all be it that these were prefaced by endless conversations between Kevin Dyer and I about the ideas. Two things stayed with me throughout the process. Firstly that plays often feel bigger than your head and secondly that you dont know what a play is until its made.
It has been a very happy process. I have loved working with Kevin Dyer and Mick Stroble again but the addition of Catherine Ireton, Nell Ranney  and Simon McCorry meant that we had a new dynamic in the room. It has been an open, relaxed but testing process. I was delighted at how quickly people were able to ask awkward questions, affectionately.
What i would say is that village hall touring is getting harder. The touring schemes, who do a stirling job, used to be able to offer a week of dates. Now it is two or three days. Partly this is the inevitable consequence of less funding and a greater range of events on offer. But i fear i also detect a loss of appetite for theatre itself – and when it is on offer success is often judged on how funny the show is. 15 years ago village hall touring was primarily about theatre. Now there is world music, dance, childrens theatre, suitcase opera, stand up, hip hop, you-name-it. And theatre, for some reason, is seen as the 'hard to sell' event. I get the shared experience arguments and the value of introducing new arts. I also know that one of the most important things is that the audience leaves having been moved and wanting more. feeling more human. But i come from a world in which art is about making sense of the world and understanding our place in it, rehearsing ideas and imagining. And i think theatre does that, uniquely well. The challenge is to get to a place where the audience trusts and wants to engage with us.
Which is one of the reasons i have focused on creating events rather than shows. And i think we did that with this show. I make no secret of my affection for Mick. We have made over 40 shows together.  His skills, his capacity to connect with an audience matched by Catherines deceptively simple songs and astonishing voice added to which Simons carefully crafted videos – to say nothing of the biscuits and tea meant the evening felt something akin to a conversation amongst friends.
and I should say something about Kevin. Who is a dear friend that i see too little. In truth we would mostly talk to each other whilst he sat in a car park in Wrexham waiting for his son who does gymnastics on a tuesday evening. We talked lots about a creation process that wasn't led by a script. He would often be sitting in the rehearsal room writing half a page before we tested the words. indeed sometimes we got in front of him. extraordinary talent that.
One of the things I am proudest of this piece for the thing i havent mentioned. The central character is autistic. But its not a show about autism. And even better audiences don't speak about that alone afterwards. Its just people telling stories.
we will certainly try and retour the show. I am desperate to get back in the rehearsal room and see what else we can do. I want to see if we can bake the biscuits for real. I want to give Catherine's songs the full orchestration they deserve and i want to make sure we arent touring so much equipment!